The internal growth of Colombia has been one of the most interesting in Latin America during the last. The level of investment has been increasing and although the 2020 pandemic was a factor that could have affected this growth, it was not. Colombia is today one of the countries with the most confidence to do business, especially in the Free Trade Zones, which, unlike other countries, have unique benefits, achieving greater commercial, transactional and growth attractiveness. These are the 5 reasons to invest in a Free Trade Zone in Colombia:
The country has one of the most reliable business environments in the region.
Colombia ranked third, by number of FDI (Foreign Direct Investment) projects. Colombia continued its upward trajectory after an increase of 117% in 2018 and 3% in 2019. On the other hand, it is one of the countries with the lowest risk according to the EMBI index (the higher the percentage, the higher the risk) of the main countries of the region, with 2.4%. The World Bank's Doing Business 2020 report also highlights, Colombia ranks third among the best countries to do business in Latin America.
Colombia is the country with the fewest barriers to FDI in Latin America.
Colombia has a lower FDI restriction rate than countries such as Canada (0.16) and the United States (0.09).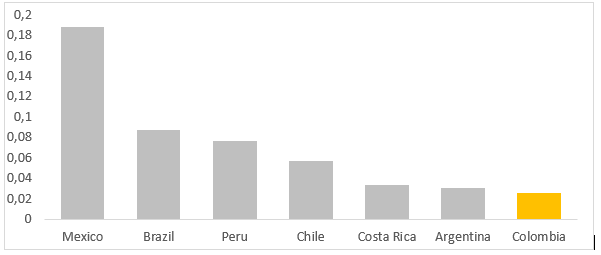 Barranquilla and the Atlántico in general are the best options to invest in a Free Trade Zone in Colombia.
In 2018, the state's GDP grew above the national level, with a rate of 2.7% compared to 2017, while Barranquilla's unemployment rate is below 23 cities and the metropolitan area, being surpassed only by Cartagena. On the other hand, monetary poverty decreased from 49.5% in 2003 to 21.1% in 2018, a reduction of more than 50% and the AAA credit risk rating, the highest in investment ratings (Fitch Ratings, 2019 ).
Easy access to air and sea routes
Barranquilla in particular, has a privileged location over the rest of the country, this translates into its easy access to one of the main airports in Colombia and the Magdalena River, a fundamental maritime artery for exports and imports.
Customs and tax benefits
A Free Zone in Colombia has unique customs and tax privileges in the region that translate into greater profitability for the company, being able to reinvest these exemptions in raw materials, logistics costs, labor contracts, among others.
Learn about the benefits of La Cayena Free Trade Zone
There are many economic and logistical benefits of investing in a Free Trade Zone in Colombia, however, the most important factor is the human one. At Zona Franca La Cayena we have a team that is willing to rigorously attend to each of your needs. Contact us for more information